The European Commission's ambition to improve air quality and protect the health of EU citizens has resulted in a progressive approach towards emission standards for non-road mobile machinery.
Since the late 1990s, legislation on engine emissions, in a wider range of powers and applications, has been changed and has become more restrictive. Now, the regulation for Stage V of diesel engines – applied in 2019/20 – is extended to include smaller compression ignition engines (under 19 kW) and all larger engines (over 560 kW), establishing a minimum stringency over the whole power ranger. Stage V also continues to reduce particulate and nitrogen oxide (NOx) emissions, thus limiting the number of particles for several engine categories between 19 and 560 kW.
In practice, this standard leads to the adoption of several physical measures for equipment with engines in these ranges, as well as an opportunity to create new, innovative, and more environmentally friendly technologies.
In a global perspective, Stage V shows the importance of the industry's role in improving air quality and calls for the fight against climate change. HANNAIK is committed to reducing its carbon footprint and helping to provide a more sustainable future. For this, new generator sets were developed for rental range, with engines from well-known brands such as FPT, JOHN DEERE, PERKINS, YANMAR, which include a new after-treatment system, to significantly ensure a reduction of pollutant emissions following EU regulation 2016/1628 for non-road mobile machinery (NRMM), as well as:
 fuel tank and AdBlue tank (purification system made with urea solution) with a robust and functional design;
 reinforced chassis with a retention tank inside, to withsand any leakage of engine liquid;
 a central lifting system that does not hinder the maintenance of the engine;
 a specific location for lifting with the forklift on the generator chassis;
 canopies/booths with C5M paint to obtain higher resistance to corrosion;
 integrated sensor network to control temperature, pressure and NOx levels;
 EGR valve system (optional);
 more efficient, with less volume and lighter engine filters;
 particle filter to be burned with an additional two-phase capture fuel injection (DOC + DPF);
 SCR system for removal of harmful exhaust elements, with the injection of urea additive (DEF) in a variable proportion.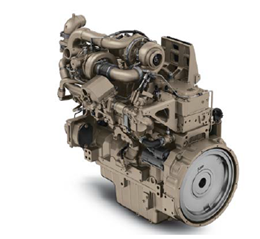 We guarantee a wide power range from 30 to 500 kVA, always taking into account durability, fuel consumption, and machine maintenance, to develop a competitive product in the rental sector.
Technical explanation of Stage 5 operation: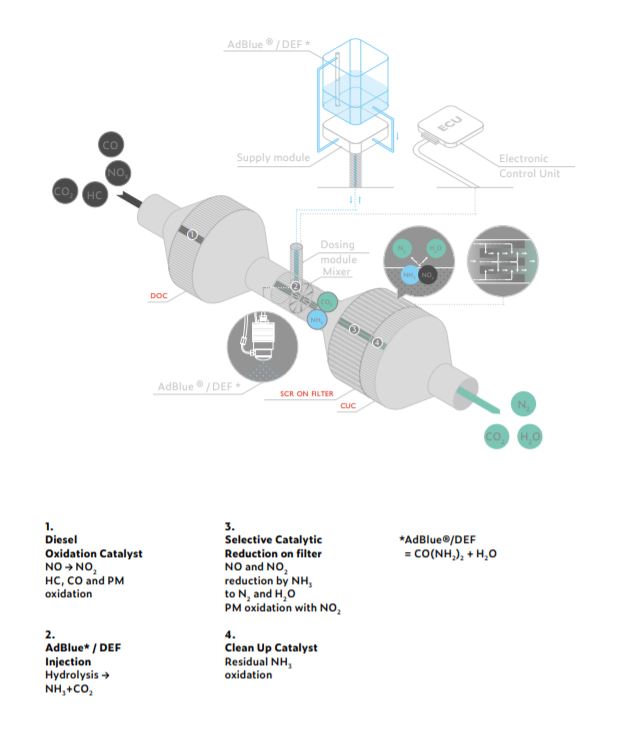 This new system comes with a network of integrated sensors to control temperature, pressure, and NOx levels. The exhaust gas flow from the engine enters the DOC, where NO is oxidized to NO2, to maximize the SCR (Conversion of catalyst efficiency).
The ECU (engine control unit) is the brain behind the system and checks, through the integrated network of sensors, the amount of water urea (DEF / AdBlue Solution) to be injected into the exhaust pipe. The result is a NOx reduction higher than 95% and PM levels within the Stage V emission limits.
The EGR valve system can also be used, which allows us to use very little AdBlue (purification system made with urea solution) when using these generators. The engines continue to use the exhaust gas recirculation (EGR valve), which diverts part of the air, burned with the new unburned air into the combustion chamber: Particulate filter to be heated with an additional two-phase capture fuel shot (DOC + DPF) and the SCR system for the removal of harmful exhaust elements, with the injection of urea additive (DEF) in a variable proportion. These new engines have more efficient, lighter and with fewer volume filters.
Optimization of maintenance and operating costs
The new generators from the rental range, especially those with a power more than 100kVA, guarantee lower operating costs than generator sets with Stage 3, mainly due to the significant reduction in fuel consumption.